Less than a quarter of an hour from the hotel no nets and cages, but bushes and pools of water.
The Bioparco Zoom Torino is born with the purpose to learn and to protect the animals, to preserve and defend the species at risk, to encourage research and deepen environmental issues.
A path that winds between 180.000 square feet of nature to know and see zoom is surely the most known bioparco in Northern Italy, and recognized as one of the leading to national and international level: a different way to experience nature and the animals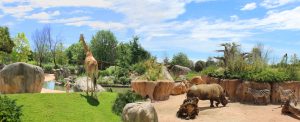 We offer you our box set All Inclusive with a Zoom's ticket, or you can decide to buy your ticket directly to Zoom by us!
The Box Set Includes:
1 NIGHT IN CLASSIC ROOM WITH BREAKFAST INCLUDED
1 entrance ticket to the Zoom bioparco
Internal parking FREE 2 days,
1 Night: € 60,00 (this weekend) – € 65,00 (this week) for total person stay
We remind you that you can also purchase the single ticket of Zoom directly in reception.
For information and reservations, contact us at this number 0121 040500 or by e-mail to info@hotelbarrage.it