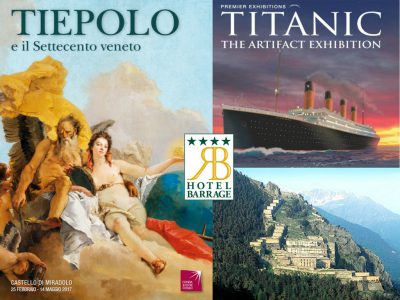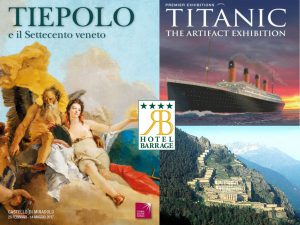 This Easter, Hotel Barrage brings to visit the best art exhibition of Turin!
You will discover the venetian painting at Miradolo's Castle and you will discover everything about the legendary Titanic with the amazing new exihibit: "Titanic: the Artifacy Exhibition".
And if it's not enough, you can visit the biggest fortress of Europe: The Fenestrelle Fortress!
3 Days; 2 Nights € 130,00 per Person for the Entire Stay

We exclusively offer: 
• Stay in Classic Room*;
• Buffet Breakfast;
• "Tiepolo e il Settecento Veneto" Art Exihibition Ticket,
• Tour of Turin with the possibility of the visit of The Titanic Exihibition (ticket not included)
• Tour of Fenestrelle with the possibility of the visit of the Fortress (ticket not included)
The Offer does not include:
• Anything not specifically stated in "We exclusively offer",
• Transfer from/to departure place and from/to Parks Supplements:
• Night Supplement in Classic: € 25.00 per person
• Suite Supplement: € 20.00 per person
• "Titanic: The Artifact Exihibition" ticket
• Fenestrelle Fortress ticket